The Goals of "Kyo no Ondokoro"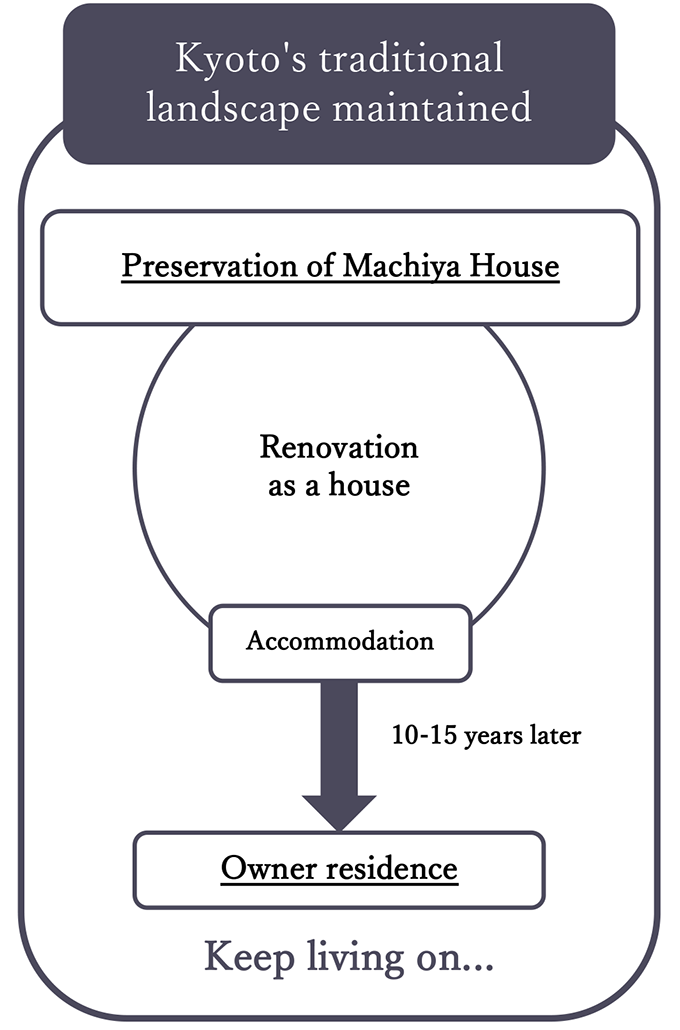 Founded in Kyoto, Wacoal Corporation started "Kyo no Ondokoro" in fiscal year 2018 as a CSV project aimed to maintain its hometown's traditional landscape and build a cooperative community through the preservation of Kyomachiya houses.
We provide high-quality renovations to uninhabited, unmaintained Kyomachiya houses to adapt them to modern living and manage them as vacation cottages. To honor Kyoto's traditional architectural culture, we keep their outward appearances and signature internal constructs, such as pillars and roof beams, as intact as possible.
Wacoal rents each Kyomachiya house from its owner. After being run as a vacation cottage for 10 to 15 years, the houses will be returned to their respective owners in their renovated state. In doing this, we hope to foster a neighborhood where people can continue to live that can be passed on to the next generation.

HOUSE LIST
For check-in, please come to
Kyo no Ondokoro NISHIJIN VILLA

Capacity

1 to 8 guests, Two-story, 196㎡(Building),516㎡(Total area)

Sight-seeing area

Geisha town Kamishichiken (7min),
Seimei shrine (8min)

Kyo no Ondokoro NISHIJIN VILLA

Architect Yoshifumi Nakamura and Minä perhonen's Akira Minagawa Have Come Together to Create Again, Designed in a Premium Kyoto Style. Perfect Inn For a Large Group

If you walk a few further steps into Nishijin area, in the heart of Kyoto, you can still hear the sound of looms weaving. Many old residences still remain from bygone days.
Recently, this Kyomachiya townhouse, first built for a Nishijin weaving merchant in the late Meiji Era (late 19th/early 20th century), has been renovated to create a new style of residence fit for the future.
The Kyo no Ondokoro NISHIJIN VILLA is a comfortable, spacious home with room for 8 guests, recommended for a long-term stay.
The premises also include garages with space for two cars, making NISHIJIN VILLA an ideal location for driving further and deeper into Kyoto's various attractive outline regions including Miyama, Kurama and Ohara.

Kyo no Ondokoro NISHIJIN VILLA #5

Parking

Free parking for two cars Available. Max height 1.9m(two cars: passenger car, mini‐van, sport utility vehicle etc. )
Kyo no Ondokoro MARUTAMACHI

Capacity

1 to 4 guests, Two-story, 94㎡

Sight-seeing area

Kyoto Imperial Palace (3min),
Nijo Castle (12min)

Kyo no Ondokoro MARUTAMACHI

Spend Time Together in a Space of Art and Beauty in a Kyomachiya House Setting, the Perfect Inn for a Girls' Getaway

Kyo no Ondokoro MARUTAMACHI is located right by the Kyoto Imperial Palace, on a quiet little street despite being in the center of Kyoto just two minutes away from the Marutamachi subway station.
The traditional Kyoto townhouse (Kyomachiya) has been renovated for modern life while still preserving its original Meiji era feel. Visitors will find themselves surrounded by the unique furnishings and lighting designed by " TORAFU ARCHITECTS " and a painting by the artist Shiho Ueda.
Full of details designed with women in mind, the house features a kitchen island space for cooking together, a carbonated spring bath and soft water shower that are gentle on skin and hair, a spacious makeup area, and a lounge area for unwinding and chatting before going to sleep. Come treat yourselves to a liberating experience of relaxation in a space designed for women to spend the perfect vacation away together.

Kyo no Ondokoro MARUTAMACHI #7

Kyo no Ondokoro GOSHONISHI

Capacity

1 to 4 guests, Two-story, 83㎡

Sight-seeing area

Kyoto Imperial Palace (5min),
Goou shrine (6min)

Kyo no Ondokoro GOSHONISHI

A Kyomachiya House, Where You Can Savor Light, Darkness, and Seasonal BeautyーBrought to You by the Creative Group " graf "

The Goshonishi area is a quiet residential neighborhood, despite being just a stone's throw from the Kyoto Imperial Palace and situated in an accessible area right in the center of the city.
The creative group "graf" has rejuvenated a traditional Kyoto townhouse--kyomachiya in Japanese--that has stood in this neighborhood for over a century, into a place of living where you can savor light, darkness, and seasonal beauty.
Kick back and relax wherever you please: in the quiet of the living room that connects to a garden stippled by the serene kaleidoscope of dappled sunlight; the kitchen /dining room or the library (2nd floor) connected to it through an open stairwell, all lit by skylights; or the Japanese room tucked way in the back of the second floor like some snug hideaway.

Kyo no Ondokoro GOSHONISHI #6

Kyo no Ondokoro FUYACHO-NIJO

Capacity

1 to 8 guests, Two-story, 186㎡

Sight-seeing area

Kyoto Imperial Palace (8min),
Shimogoryo shrine (6min)

Kyo no Ondokoro FUYACHO-NIJO

A Kyomachiya House Where the Traditional Cultures is Still Alive and Experience Traditional Japanese Design and Modern Art. Perfect Inn for a Large Group

FUYACHO-NIJO is in south of Kyoto Imperial Palace and is conveniently located for traveling anywhere in Kyoto. While the most of the floor plan and the ambiance of the grand sesquicentennial house are preserved, the Kyomachi house was transformed into a space to compliment the modern living. "Ouchi" (the home), adorned by Japanese traditional cultures using high quality materials as well as "Karimoku Furniture", creates an innovative yet nostalgic atmosphere. The Kyomachi house is spacious enough to comfortably accommodate up to 8 people, and is a perfect place to spend a cozy vacation with close friends, old friends, or families who live far away.

Kyo no Ondokoro FUYACHO-NIJO #4

Kyo no Ondokoro GOKOMACHI-EBISUGAWA

Capacity

1 to 4 guests, Two-story, 82㎡

Sight-seeing area

Kyoto Imperial Palace (8min),
Shimogoryo shrine (4min)

Kyo no Ondokoro GOKOMACHI-EBISUGAWA

A Superior Quality, Modern and Quiet Tea-Room-Like Kyomachiya House Filled with the Atmosphere of Kyoto and the Aroma of a Tea Ceremony

"I want to relax and enjoy the tea ceremony after retirement until my heart contents." This Kyomachiya house was built about 90 years ago with such thoughts. We renovated it to make it close to the modern living environment, while keeping the atmosphere of the tea ceremony aroma.

Ebisugawa-Dori going east to west is a street with many old joiners and furniture shops. There are old-fashioned grocery stores, stationery stores, and antique shops, and you can feel the atmosphere of "ordinary Kyoto" while strolling. Also, it is located in the south of the Kyoto Imperial Palace and is convenient for going anywhere in the city of Kyoto.
This inn only accommodates you and your favorites and helps you enjoy the atmosphere of "another ordinary life" of Kyoto as much as you like.

Kyo no Ondokoro GOKOMACHI-EBISUGAWA #3

Kyo no Ondokoro KAMANZA-NIJO

Capacity

1 to 4 guests, Two-story, 82㎡

Sight-seeing area

Nijo Castle(6min),
Kyoto Gyoen National Garden(14min)

Kyo no Ondokoro KAMANZA-NIJO

Kyomachiya House as a Residence Nestled Close to Modern Life That is Run by the Architect Yoshifumi Nakamura and Akira Minagawa of minä perhonen

KAMANZA-NIJO is a place where you can spend the time quietly while located in the town with good transportation access and close to Nijo Castle.This 150-year-old (estimated) small Kyomachiya house was reborn as a residence overflowing with light nestled close to modern life. There is a kitchen & dining room that envelops you with warmth, a pleasant tooriniwa (passageway) atrium, a bathroom bathed in the scent of hinoki cypress and a garden library overlooking a 100-year-old tree. Please spend a relaxing time here as though you are at home while soaking up the history built up in this small Kyomachiya house.

Kyo no Ondokoro KAMANZA-NIJO #2

Kyo no Ondokoro OKAZAKI

Capacity

1 to 6 guests, Two-story, 90㎡

Sight-seeing area

Heian Jingu shrine(6min),
Nanzenji Temple(12min)

Kyo no Ondokoro OKAZAKI

A Kyomachiya House is Located in a Quiet Residential Higashiyama Area with Feeling a Living in Kyoto, Near by the Heian Jingu Shrine

The 90-year-old Kyomachiya (Japanese Traditional Townhouse in Kyoto) was renovated into a comfortable "home." We hope you will enjoy relaxing time with close friends at the kitchen and the dining room with ample sunlight or the veranda of the Japanese-style room with a breeze.
A plenty of Japanese historic shrines and temples is located within walking distance, Heian shrine, Yasaka shrine, Chion-in temple, Kodai-ji Zen temple, Nanzen-ji temple, Ginkaku temple. Our townhouse is "Your house in Kyoto" which we want to go back every season.

Kyo no Ondokoro OKAZAKI #1
PRODUCE

Wacoal company was founded in the beautiful city of Kyoto. In order to preserve the charming atmosphere for future generations, the company is breathing new life into the Kyomachiya homes in the form of a "Serene Home."
We hope that travelers to Kyoto will continue to enjoy a rich experience in our city,and our home.

Ever since its foundation in 1985, Spiral has espoused the commercialization of culture and has conducted activities under the concept of "Fusion of art and everyday life." By utilizing its creative network and collaborating with artists, Spiral seeks to apply art to real society.